My weight loss goal is to lose 71lbs by January 1st, 2012.
Why 71 pounds?
Beginning Oct 3rd 2011, when I began using the doctors scale to weigh myself, I first weighed in at 401 pounds.  My goal weight is 330lbs by new years, which comes to 71 pounds of weight loss.
I don't plan to stop at 330lbs, but I do have a reason to set my goal at 330lbs.
I bought a Wii Fit Plus, with balance board, for my family last year.  This thing is a load of fun, and yes there is exercises you can do, but there is also a TON of fun things you can do.  Little games, balancing, riding a bike, and there is even shared family high scores.
My wife and kids have a BLAST playing this in our front room.
BUT, there is a DARK SIDE to the wiifit for those of us who are very heavy.
The MAX WEIGHT LIMIT is 330lbs.  If you weight more than that, you can do ANYTHING.  Not even the super fun snowball fight game where you peak out either the right or left side of a wall and throw snowballs at other wiifit characters.
So I have always been left out of the fun of this great game.
I would like to be able to play this with my family during new years, so in order to do that I need to get my weight down to 330lbs or less.
That's a TALL ORDER I know.
That means I have to lose 5.52 pounds per week.   Not something that is easy to do.  To be honest, I have my doubts that I can maintain that kind of weight loss, but I am sure as hell going to try.
Here is a graph of how things are looking right now.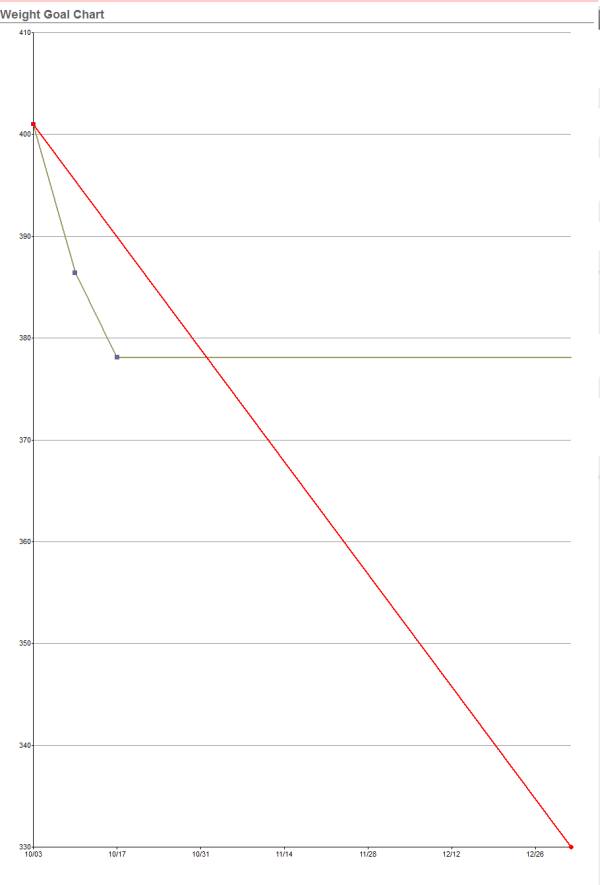 RED LINE IS GOAL WEIGHT
ACTUAL WEIGHT LOSS IS BROWN LINE
So as of today, I am below the red line, which means I am ahead of where I need to be.  But weight loss is always easiest early on.  I'm just hoping that I can keep it under that red line.
I might as well try, I have nothing to lose except my fat.